How to cook smoked pork the easy way.
Are you making pulled pork and want to save time (and propane)? I recommend smoking the pork first, then letting the oven finish cooking overnight at a low temperature. Why? Because pork stops absorbing smoke at around 140°F. The smoke ring stops forming at around 170°F. So using this cooking method makes sense... the pork is smoky and tender, you don't waste a lot of wood chips or propane, and the "pull" temperature is perfect.
A couple of helpful hints before you get started with your pulled pork cooking session:
Don't trim all the fat, it adds flavor and juiciness to the pork. Cook fat side-down!
Use a thin coating of yellow mustard to help the dry rub bind to the pork.
Deep foil steam table pans work great for direct transfers from the smoker to the oven. They can be reused too!
Use heavy duty aluminum foil to wrap your pork before adding to the oven. You want to lock-in the moisture.
Smokers get extremely hot, so use pot holders or oven mitts to handle your BBQ equipment (especially the smoker box and drip tray).
Be sure to have gallon size storage bags on-hand to freeze your leftover pork. Record the date and time and save for a future meal.
---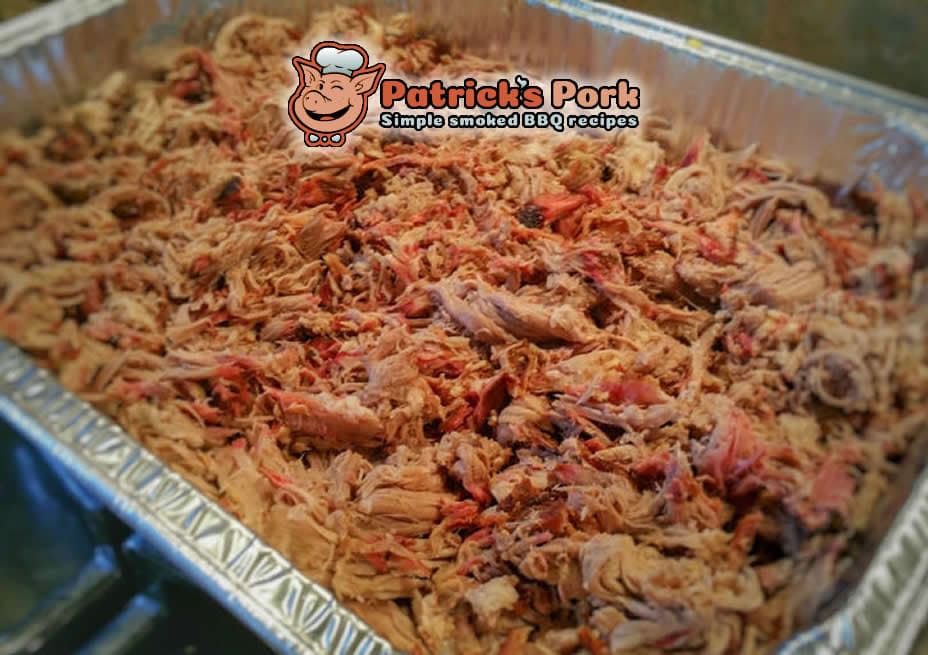 A simple recipe to smoke pulled pork.
I have made this pulled pork recipe dozens and dozens of times, and it never fails! Keeping it simple, I like to use an off-the-shelf rub called "Barbecue Magic" from Chef Paul Prudhomme. It's great on almost anything you can cook in a smoker. If you are ambitious, you can make the NC style rub according to my recipe below.
This recipe makes perfect smoked pulled pork using my simple smoker-to-oven process.
Nutrition Info
Serving Size: 1 serving
Calories: 250
Fat Content: 18g
Carbohydrate Content: 0g
Protein Content: 20g
Ingredients
4-5 pounds pork shoulder or pork butt
Dry rub (NC style)

1/2 cup brown sugar
1/2 cup salt
1/4 cup paprika
1/4 cup black pepper
1/4 cup white pepper
1 1/2 tbsp. onion powder
1 1/2 tbsp. garlic powder
2 tsp. ground mustard

1 cup soda (optional)
Rolls or buns (optional)
Coleslaw (optional)
Mac & cheese (optional)
Dill pickles (optional)
Instructions
How to smoke pulled pork:
---
Storing and freezing instructions:
Put leftover pulled pork in an airtight container in the refrigerator for 2-3 days.
Pulled pork can be frozen for up to 3 months. Thaw overnight in the refrigerator before reheating.
---
How to reheat smoked pulled pork:
Oven reheating (recommended):
Preheat your oven to 250°F.
Place the pulled pork and any leftover juices in an ovenproof dish.
Cover the dish with aluminum foil.
Bake for 20-30 minutes or until the pulled pork reaches an internal temperature of 165°F.
Microwave reheating:
Place the pulled pork and any leftover juices in a microwave-safe bowl.
Cover the bowl with a damp paper towel to trap moisture.
Warm the pork until it reaches an internal temperature of 165°F.
Be sure to check and stir periodically to ensure even reheating.
---
What's the best wood to smoke pulled pork with?
I like to smoke pork with hickory, mesquite, apple or cherry wood. I usually try to "pair" the smoke wood with the rub, as well as the steaming liquid. So for example, apply a cherry rub, smoke with cherry wood chips, and finish in oven with a cherry soda steam. This will give you a smokey flavor with a hint of cherry. When you cook pork this way, a BBQ sauce really is not needed (in my humble opinion). Another benefit is the juices from the pork (cherry in my example) can be used to flavor other side dishes, like beans, rice or potatoes.
---
Photo gallery of a pulled pork smoke session